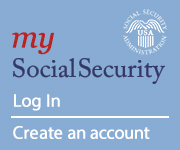 Create And Manage Your Own Social Security Account
Click the image to the right to create your own mySocialSecurity account. Once you have successfully set up the account, you will be able to make changes to your address, phone, request benefit verifications, etc.
Other Useful Resources
Social Security Disability Information For Adults
If you are not sure whether your condition is considered a potential disability by the Social Security Administration, this is an excellent resource directly from the federal agency's website. It lists all conditions that could potentially qualify as disabling for adults, ages 18 and older.
Social Security Disability Information For Children
The Social Security Administration has a separate list of conditions and diseases that may qualify for disability benefits. This link provides medical criteria for the evaluation of these impairments in children younger than 18 years old.
Evidence Requirements For Social Security Disability Application
When applying for Social Security disability benefits, documentation of the claimant's condition is necessary and must come from "acceptable medical sources." Visit this webpage to learn more about the evidentiary requirements when applying for Social Security disability benefits.
Visit this site to download FREE forms from the Social Security Administration for benefits applications, administrative hearing requests and more.
Visit this site to order a FREE Social Security earnings report.
If you are in Harris County, Texas and need to seek medical care from the county hospital system, you will need to apply for a Gold Card if you do not have one. Medical records are very important to your disability claim, so you need to continue to seek medical treatment, even if it is from a local clinic or public hospital.
Texas Public Assistance
Many people who apply for disability need assistance in other areas of their life too. If you need to apply for food stamps or other public assistance, visit this site.
Houston Housing Authority
If you need help with your housing situation, you may be eligible to apply for Section 8 and public house.